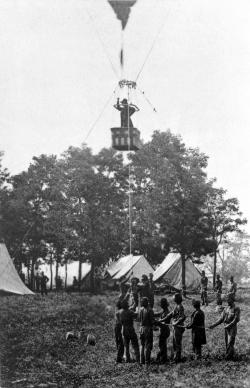 Society:
AIAA
Main Category:
Aerospace & Aviation
Sub Category:
Frontiers of Knowledge
DateCreated:
1861
National Mall at the Smithsonian Institution's National Air and Space Museum
Washington, D.C.
Country:
USA
Website:
https://www.aiaa.org/uploadedFiles/About_AIAA/News_Room/BalloonHistoricSite.pdf
Creator:
Lowe, T.S.
T.S.C. Lowe's Observation Flight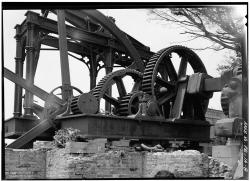 Society:
ASME
Main Category:
Mechanical
Sub Category:
Steam
Era:
1860-1869
DateCreated:
1861
Conservation Trust of Puerto Rico
Manatí
State:
PR
Zip:
00617
Country:
USA
Website:
http://www.asme.org/about-asme/history/landmarks/topics-m-z/mechanical-power-production-steam/-35-hacienda-la-esperanza-sugar-mill-steam-engine, https://www.asme.org/getmedia/60f1d4d5-215e-4334-8267-a40a7372288a/35_Hacienda_La_Esperanza_Sugar_Mill_Steam_Engine.aspx
Creator:
Watt, James , Newcomen, Thomas
The La Esperanza sugar mill steam engine is one of the few remaining American links to the pioneer beam engines of the English inventors Thomas Newcomen (1712) and James Watt (1769). The engine was built in 1861 in Cold Spring, New York, by the West Point Foundry. The general arrangement and details, including the Gothic embellishment, are typical of machinery of the period. The straight-line motion of the piston rod is accommodated to the arc of the moving beam end by a parallel motion. Watt regarded this ingenious linkage as the invention of which he was most proud.
Image Credit:
Public Domain (National Park Service)
Era_date_from:
1861
Subscribe to 1861
Innovations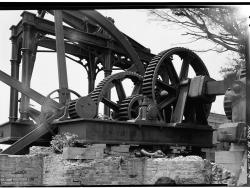 The La Esperanza sugar mill steam engine is one of the few remaining American links to the pioneer beam engines of the English inventors Thomas Newcomen (1712) and James Watt (1769). The engine was built in 1861 in Cold Spring, New York, by the West Point Foundry. The general arrangement and…
Read More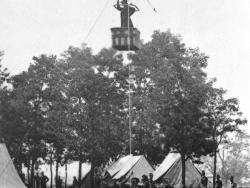 T.S.C. Lowe's Observation Flight
Thaddeus Sobieski Constantine Lowe demonstrated the use of a hydrogen-filled balloon in aerial reconnaissance through a series of tethered ascents in June, 1861 in front of…
Read More